How Did Chrisean Rock Lose Her Tooth?
How Did Chrisean Rock Lose Her Tooth; In a world where reality shows are a dime a dozen, rapper Blueface had a genius idea during the COVID-19 pandemic: why not quarantine with a group of diverse women and create a show called Blue Girls Club? One of the stars of the show, Chrisean Rock, quickly became a fan favorite with her spunky personality and dramatic antics.
However, during a physical altercation with Blueface's ex-girlfriend and baby mama, Jaidyn Alexis, Chrisean bumped her mouth and lost her front tooth. Blueface offered to pay for the fix, but Chrisean has been putting it off like a procrastinating student dreading an exam. The mere thought of drilling into her precious gums has her breaking out in a cold sweat.
But instead of hiding away in shame, Chrisean has embraced her missing tooth as a unique and iconic feature. Fans have praised her for owning her flaw like a boss and she's even incorporated it into her image and brand as a musician. Who needs a perfect smile when you can rock a "DaBigBaby" persona?
Chrisean plans to eventually get her tooth fixed, but for now, she's happy to bask in the attention it's brought her. After all, who needs a full set of pearly whites when you have a spunky personality and a toothless grin that would make even the toughest of rappers jealous?
WHO IS CHRISEAN ROCK?
Get ready to meet Chrisean Rock, the spunky and dramatic rising star in the world of social media and entertainment. She made her debut on the reality show "Blue Girls Club," created by rapper Blueface during the COVID-19 pandemic. The show followed Blueface and a group of women as they documented their daily lives on social media, and boy did Chrisean make an impression!
With her entertaining personality and ability to stir up drama, Chrisean quickly stood out from the rest of the cast. She even got into a physical altercation with one of Blueface's ex-girlfriends, which resulted in her losing a front tooth. But did that stop her? Heck no! Chrisean has continued to thrive and has become an influencer in her own right.
She's got a massive following on Instagram where she shares her daily life and fashion choices with fans. But that's not all – Chrisean has also launched a music career, with her missing tooth becoming a signature look in her music videos. She's been called a fierce and independent spirit, and fans can't get enough of her unique personality.
Chrisean's even given herself a nickname, "DaBigBaby," and uses it in her social media bios. Fans have praised her for embracing her missing tooth and using it to her advantage. With her strong presence and entertaining personality, it's no wonder she's captured the attention of fans and media alike.
It's exciting to think about where Chrisean's career will take her in the future. As she continues to grow her following and establish herself as a force to be reckoned with in the entertainment industry, we can't wait to see what she'll do next. So keep an eye out for Chrisean Rock, because she's sure to bring drama and entertainment wherever she goes!
Kristin Beyonce Thick Cousin Latest Update!! Viral Again …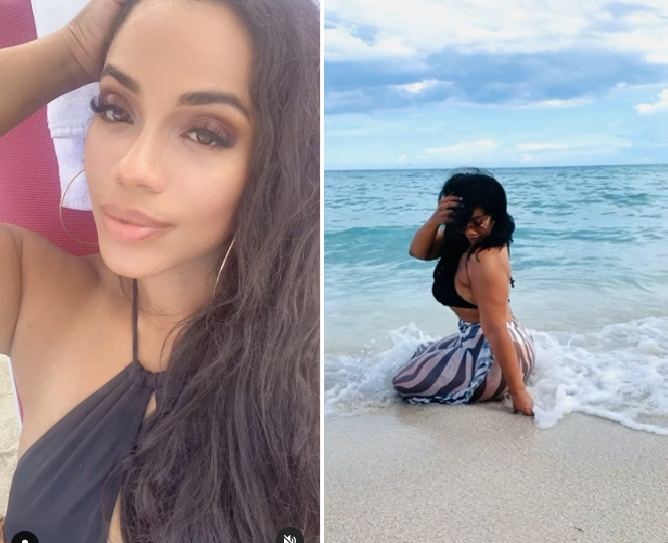 Kristin Beyonce Thick Cousin, the medical pro from Houston, totally shook the internet like seven years back.
Well, hold onto your hats, because Kristin is still kicking it, and she's looking absolutely fabulous. Beyonce is making her way back to her hometown this weekend for a series of concerts in Houston, and guess who's rolling with her? Yep, Beyonce's entire crew, including the one and only Kristin, will be in the house.
And in case you're curious, Kristin Beyonce Thick Cousin still owns her curvaceous style. Here are some fresh pics of Queen Bey's cousin.
Beyoncé got her start early in the game, hitting up singing and dance competitions when she was just a kid. She catapulted to fame in the late '90s as part of the R&B girl group Destiny's Child, one of the biggest girl groups ever to grace the stage. When Destiny's Child took a breather, Beyonce dropped her first solo album, "Dangerously in Love," in 2003, and it was a massive hit. She kept the hits coming with albums like "B'Day" in 2006, "I Am… Sasha Fierce" in 2008, and "4" in 2011.
View this post on Instagram
Then, in the mid-to-late 2010s, after starting her own management company, Parkwood Entertainment, Beyoncé went all in on some artsy and experimental stuff. She had folks buzzing about her visual albums "Beyoncé" in 2013 and "Lemonade" in 2016, where she tackled real-world issues like infidelity, feminism, and womanism. After dropping the cool LGBT-inspired dance album "Renaissance" in 2022, she made history by becoming the first solo artist to have her first seven studio albums debut at number one in the U.S.
Now, let's talk about her hits. We're talking about classics like "Crazy in Love," "Baby Boy," "Irreplaceable," "If I Were a Boy," "Halo," "Single Ladies (Put a Ring on It)," "Run the World (Girls)," "Love On Top," "Drunk in Love," "Formation," "Break My Soul," and "Cuff It." Oh, and she teamed up with her hubby Jay-Z for "Everything Is Love" in 2018 and cooked up the musical film "Black Is King" in 2020, inspired by the music from "The Lion King: The Gift" soundtrack from 2019. And don't forget "Homecoming: The Live Album" in 2019, capturing her 2018 Coachella performance, hailed as one of the all-time great live albums, celebrated for its diverse musical history. Beyond music, she's also dabbled in the world of film, appearing in "Austin Powers in Goldmember" (2002), "The Pink Panther" (2006), "Dreamgirls" (2006), "Cadillac Records" (2008), "Obsessed" (2009), and "The Lion King" (2019).