Jalen Carter Arrested? Jalen Carter Height, Weight, Charges, Age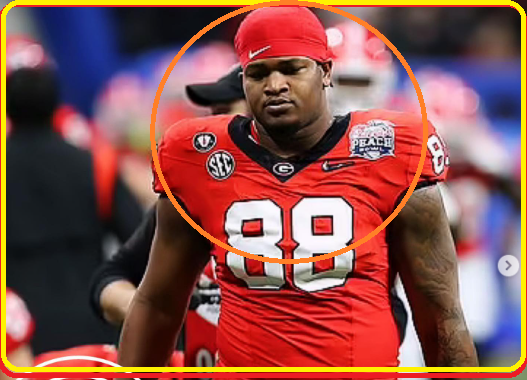 Jalen Carter arrested? The Athens-Clarke County Police Department has issued an arrest warrant for Jalen Carter, a highly touted NFL draft prospect and defensive lineman for the University of Georgia. Jalen Carter is facing charges of reckless driving and racing in connection to a fatal traffic accident that occurred in January.
The accident occurred during a reported street race between Jalen Carter and Chandler LeCroy, resulting in the tragic deaths of LeCroy, a Georgia staffer, and Devin Willock, a Georgia offensive lineman. LeCroy's Ford Expedition reportedly lost control and collided with two telephone poles, resulting in the loss of both passengers. Two other individuals in the vehicle were also injured, and authorities determined that excessive speed was a factor in the crash.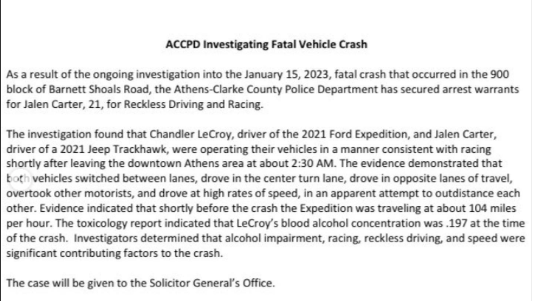 The news of the arrest warrant has come as a shock to many, as Jalen Carter was seen as a top pick in the upcoming NFL draft. The tragic loss of life in this incident serves as a stark reminder of the importance of responsible driving and the dangers of reckless behavior behind the wheel.
It remains to be seen how this will affect Jalen Carter's future prospects in the NFL and beyond. The situation is undoubtedly heartbreaking for all those involved, and our thoughts go out to the families and loved ones of the victims affected by this tragedy.
WHO IS JALEN CARTER?
Jalen Carter aged 22 years, is a name that college football fans are going to want to remember. This young defensive lineman has already made a name for himself on the field, and he's just getting started.
Jalen Carter grew up in Apopka, Florida, where he quickly became a standout player on his high school football team. His size and strength made him a force to be reckoned with on the defensive line, and college scouts quickly took notice. Jalen Carter received offers from some of the top programs in the country but ultimately decided to take his talents to the University of Georgia.
From the moment Jalen Carter stepped foot on the field for the Bulldogs, it was clear that he was something special. He has an explosive first step that allows him to blow past offensive linemen and make plays in the backfield. He's also incredibly strong and has been known to bull-rush his way into the opposing team's backfield.
But what really sets Jalen Carter apart is his athleticism. For a player his size, he moves incredibly well and has the speed and agility to chase down ball carriers and make tackles in the open field. He's even been known to drop back into coverage on occasion, a rare feat for a defensive lineman.
Off the field, Jalen Carter is known for his upbeat personality and infectious smile. He's always quick with a joke or a kind word, and his teammates love being around him. In fact, he's become somewhat of a team prankster, always finding ways to keep things light and fun in the locker room.
Despite his youth and relative inexperience, Jalen Carter has already become one of the most important players on the Bulldogs' defense. He's a game-changer who can disrupt the opposing team's offensive game plan and create havoc in the backfield. And with several more years of college football ahead of him, it's clear that Jalen Carter is a player who is only going to get better with time.
So if you're a college football fan looking for someone to root for, look no further than Jalen Carter. He's a dynamic player with a bright future ahead of him, and he's sure to put on a show every time he takes the field.
JALEN CARTER HEIGHT & WEIGHT
Jalen Carter is a rising star in college football, playing as a defensive lineman for the University of Georgia Bulldogs. He possesses an impressive physical stature that makes him a force to be reckoned with on the field.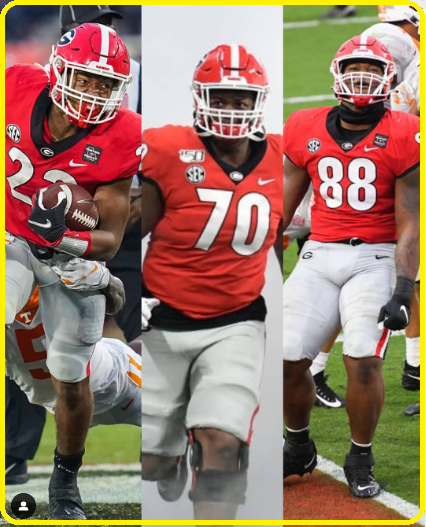 At 6 feet 3 inches (1.91 meters) tall, Carter is taller than the average defensive lineman in college football, providing him with an advantage in his position. His height allows him to reach over offensive linemen and disrupt passing lanes, as well as tackle ball carriers behind the line of scrimmage.
Carter's weight is equally impressive, tipping the scales at 305 pounds (138.3 kg). His size, combined with his strength and height, enables him to overpower opposing linemen and create opportunities for his teammates to exploit gaps in the offensive line.
Despite his large size, Carter is also known for his agility and speed on the field. He possesses a quick first step and can change direction with ease, enabling him to get past offensive linemen and make plays in the backfield.
Carter's remarkable physical attributes are a testament to the hard work and dedication he has invested in his training and conditioning. With his size, strength, and agility, he is poised to be a dominant force on the defensive line for years to come, making him an exciting player to watch in college football.
Kristin Goes Beyonce Thick Cousin Latest Update!! Viral Again …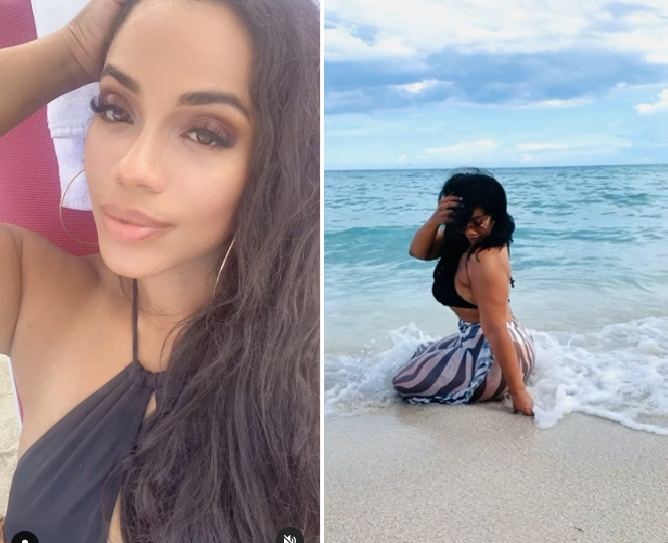 Kristin Beyonce Thick Cousin, the medical pro from Houston, totally shook the internet like seven years back.
Well, hold onto your hats, because Kristin is still kicking it, and she's looking absolutely fabulous. Beyonce is making her way back to her hometown this weekend for a series of concerts in Houston, and guess who's rolling with her? Yep, Beyonce's entire crew, including the one and only Kristin, will be in the house.
And in case you're curious, Kristin Beyonce Thick Cousin still owns her curvaceous style. Here are some fresh pics of Queen Bey's cousin.
Beyoncé got her start early in the game, hitting up singing and dance competitions when she was just a kid. She catapulted to fame in the late '90s as part of the R&B girl group Destiny's Child, one of the biggest girl groups ever to grace the stage. When Destiny's Child took a breather, Beyonce dropped her first solo album, "Dangerously in Love," in 2003, and it was a massive hit. She kept the hits coming with albums like "B'Day" in 2006, "I Am… Sasha Fierce" in 2008, and "4" in 2011.
View this post on Instagram
Then, in the mid-to-late 2010s, after starting her own management company, Parkwood Entertainment, Beyoncé went all in on some artsy and experimental stuff. She had folks buzzing about her visual albums "Beyoncé" in 2013 and "Lemonade" in 2016, where she tackled real-world issues like infidelity, feminism, and womanism. After dropping the cool LGBT-inspired dance album "Renaissance" in 2022, she made history by becoming the first solo artist to have her first seven studio albums debut at number one in the U.S.
Now, let's talk about her hits. We're talking about classics like "Crazy in Love," "Baby Boy," "Irreplaceable," "If I Were a Boy," "Halo," "Single Ladies (Put a Ring on It)," "Run the World (Girls)," "Love On Top," "Drunk in Love," "Formation," "Break My Soul," and "Cuff It." Oh, and she teamed up with her hubby Jay-Z for "Everything Is Love" in 2018 and cooked up the musical film "Black Is King" in 2020, inspired by the music from "The Lion King: The Gift" soundtrack from 2019. And don't forget "Homecoming: The Live Album" in 2019, capturing her 2018 Coachella performance, hailed as one of the all-time great live albums, celebrated for its diverse musical history. Beyond music, she's also dabbled in the world of film, appearing in "Austin Powers in Goldmember" (2002), "The Pink Panther" (2006), "Dreamgirls" (2006), "Cadillac Records" (2008), "Obsessed" (2009), and "The Lion King" (2019).