Graduate Kadia Iman Says Viral Mic Drop Is Justified Because She's Black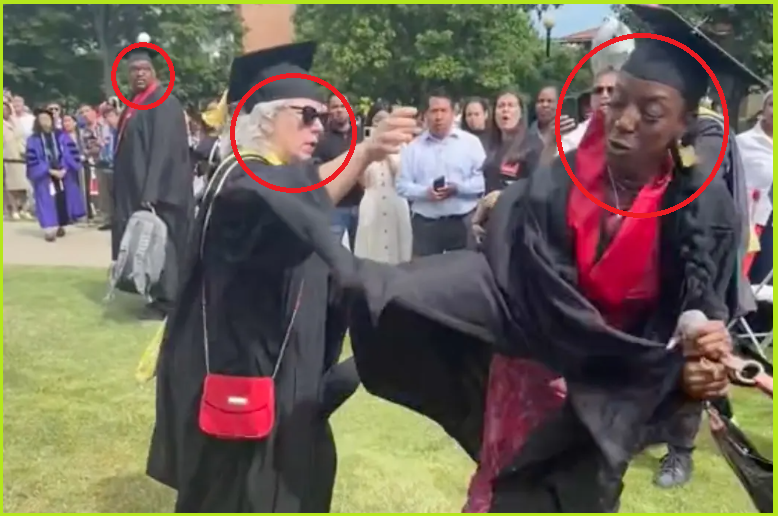 In a powerful display of determination and defiance, Kadia Iman, a recent Black college graduate, made headlines after a video of her snatching the microphone from a white professor went viral. The incident occurred during her graduation ceremony at  LaGuardia Community College, sparking a heated debate surrounding racism and the silencing of marginalized voices.
The video captures the moment when Iman, clad in her graduation regalia, seizes the microphone from the stunned professor, demanding her rightful opportunity to share her full name with the gathered audience. Her words resonate with frustration and a longing for recognition, as she declares, "I want the mic! Let go! You didn't let me get my moment."
Iman's actions symbolize a larger struggle faced by individuals of color in predominantly white spaces, where their voices are often marginalized or disregarded. By seizing the mic, she reclaims her agency and asserts her right to be heard, turning the attention back to herself and her achievements as she proudly proclaims, "Today is going to be all about me!"
However, following the video's viral spread, Iman experienced a significant backlash on social media. Critics questioned her actions, suggesting that her behavior could hinder future job prospects. In response, the resilient graduate took to social media to address the criticism head-on. In a heartfelt statement, she unapologetically affirmed her identity as a Black woman in America, highlighting the pervasive challenges faced by individuals from marginalized communities.
Iman, who is also a digital content creator and OnlyFans model, emphasized that she took a stand not only for herself but for other girls who look like her. Her act of defiance serves as a beacon of inspiration, challenging societal norms and amplifying the voices of those who are often silenced.
Kristin Goes Beyonce Thick Cousin Latest Update!! Viral Again …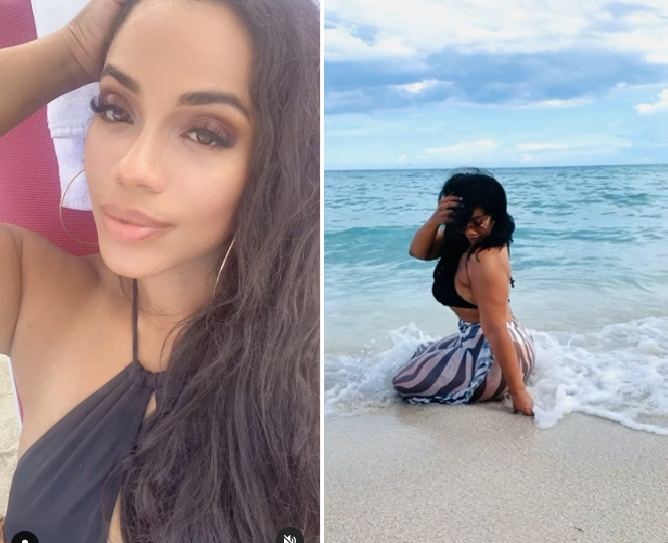 Kristin Beyonce Thick Cousin, the medical pro from Houston, totally shook the internet like seven years back.
Well, hold onto your hats, because Kristin is still kicking it, and she's looking absolutely fabulous. Beyonce is making her way back to her hometown this weekend for a series of concerts in Houston, and guess who's rolling with her? Yep, Beyonce's entire crew, including the one and only Kristin, will be in the house.
And in case you're curious, Kristin Beyonce Thick Cousin still owns her curvaceous style. Here are some fresh pics of Queen Bey's cousin.
Beyoncé got her start early in the game, hitting up singing and dance competitions when she was just a kid. She catapulted to fame in the late '90s as part of the R&B girl group Destiny's Child, one of the biggest girl groups ever to grace the stage. When Destiny's Child took a breather, Beyonce dropped her first solo album, "Dangerously in Love," in 2003, and it was a massive hit. She kept the hits coming with albums like "B'Day" in 2006, "I Am… Sasha Fierce" in 2008, and "4" in 2011.
View this post on Instagram
Then, in the mid-to-late 2010s, after starting her own management company, Parkwood Entertainment, Beyoncé went all in on some artsy and experimental stuff. She had folks buzzing about her visual albums "Beyoncé" in 2013 and "Lemonade" in 2016, where she tackled real-world issues like infidelity, feminism, and womanism. After dropping the cool LGBT-inspired dance album "Renaissance" in 2022, she made history by becoming the first solo artist to have her first seven studio albums debut at number one in the U.S.
Now, let's talk about her hits. We're talking about classics like "Crazy in Love," "Baby Boy," "Irreplaceable," "If I Were a Boy," "Halo," "Single Ladies (Put a Ring on It)," "Run the World (Girls)," "Love On Top," "Drunk in Love," "Formation," "Break My Soul," and "Cuff It." Oh, and she teamed up with her hubby Jay-Z for "Everything Is Love" in 2018 and cooked up the musical film "Black Is King" in 2020, inspired by the music from "The Lion King: The Gift" soundtrack from 2019. And don't forget "Homecoming: The Live Album" in 2019, capturing her 2018 Coachella performance, hailed as one of the all-time great live albums, celebrated for its diverse musical history. Beyond music, she's also dabbled in the world of film, appearing in "Austin Powers in Goldmember" (2002), "The Pink Panther" (2006), "Dreamgirls" (2006), "Cadillac Records" (2008), "Obsessed" (2009), and "The Lion King" (2019).