YOUNG THUG Bet $5K 6IX9INE Would Snitch, See 6IXNINE CRAZY Reaction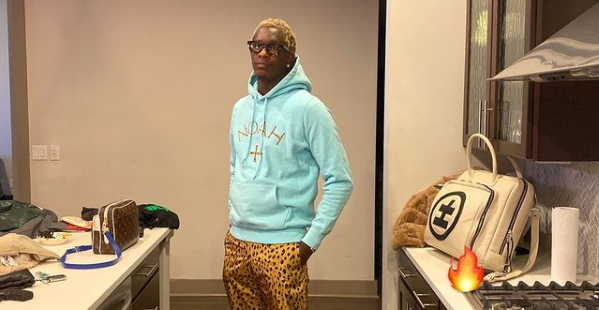 Rapper young thug was on a million dollars worth of game podcast and they were just talking and  he basically started talking about 6IXNINE and he told gilly and wallow
hey i had bet my friend five thousand dollars that this guy was gonna uh snitch and my friend didn't believe he was gonna snitch no matter yeah that's what i think he said and he said uh i knew he was gonna snitch my friend but i bet him my friend bet that he wouldn't snitch okay yeah he's better friend and then his friend bet him that takashi 6IXNINE wouldn't snitch
so obviously his friend lost that bet but his friend was saying
yo ain't nothing gonna happen to this guy he gonna come back out here
and young thug was like yeah Nah I think something's gonna happen to him so he bet him 5000 dollars that something would happen and his friend bet 5000 dollars that it wouldn't so basically they broke even.
View this post on Instagram

6IXNINE put a little meme up where he was basically like this the guy 2021 slat this who talking about me.
View this post on Instagram
You all know how 6IXNINE is man, 6IXNINE he'd be with the trolling but a lot of times he'd be like able to put certain things into perspective you know he is a rat he a snitch he been saying all that and i honestly just feel like these guys should just stop mentioning his name so he can die off but they keep mentioning his name they keep arguing back and forth with him and they keep letting them live but i think it's kind of a crazy situation right because normally if he was the typical rapper or if he was a black rapper who was really really from the hood and he had to use that black fan base in order to support his music and to grow it'll be easy to kill him with the snitch jacket because the people who will be supporting him will care about snitching but it's different takashi the peach the people who supported him don't care about snitching so honestly all you doing is giving him marketing when you call him a snitch because you're gonna call him a snitch and his fan gonna say oh but they was trying to kill his mother oh they was having sex with baby mama oh they was plotting to kill him and the lifestyle that those people come from who listening to his music they like listen if somebody gonna kill me do something to me i'm not gonna have no loyalty to him so i think if they were to just stop mentioning his name his career would die out but they won't so it won't die out because he always gonna have that little leverage to pull from to remain relevant.
Rapper Pooh Shiesty Caught On Video With A Trans Woman! Is He Gay?
Chef Dee BBL! Did Chef Dee Get A BBL?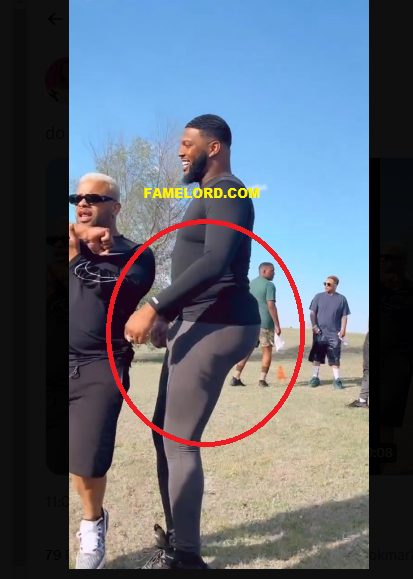 Chef Dee BBL has been trending for months now and Anthony from Bad Boys Texas on Zeus network might have just thrown fuel on this BBL Allegation.
Though it might sound far-fetched for a man to have BBL! Lol, But in reality it is not as far-fetched as you think it is, there are actually men in the entertainment industry that have undergone BBL Surgery most notable of them is Bandman Kevo The Reformed Scammer.
Did Chef Dee Get A BBL?
To be honest Chef Dee does look like he had BBL surgery done, all the telltale signs are there as you can see below.
And then there is the interview his fellow co-star on Bad Boys Texas gave in which he said dropped some shocking revelations about Chef Dee.
The interview revolved around Anthony's response to a clip from a recent episode and his comments about Chef Dee's behavior, hygiene, and BBL Surgery. The interview also includes comments from others regarding Anthony's remarks.
From the Interview, it is clear that Anthony had some grievances with Chef Dee. He mentioned issues such as Chef Dee having A BBL, serving uncooked food at his birthday party, selling soggy items, not cleaning up after himself, leaving dirty sheets in the guest room, and having multiple unknown people in Anthony's house. Anthony criticized Chef Dee for allegedly using the spotlight and lying about it, and he suggested that Chef Dee invest in a cooking class and fix his food truck's financial issues.
The interview highlights how Anthony's comments were seen as a sharp and direct critique of Chef Dee, particularly focusing on his BBL, hygiene, wigs, and personal habits. Some reactions so far from fans show that while some sided with Anthony, expressing support for his claims and criticizing Chef Dee's behavior. Others expressed their dislike for both individuals or remained neutral.