Amya Carey Death! All You Need To Know About Amya Carey
18yrs Old Amya Carey death is tragic, she was murdered by Dewitt Anderson, Cedric Banks, and Kaymia Blackmon Find out How.
Amya Carey Corpse was discovered in February but it was not until March 24 that her body was identified as that of 18yrs old Amya Carey a Mississippi native.
HOW WAS SHE KILLED?
More light was shown into Amya Carey Death when Kelly Carey a family member of Amy Carey's gave detectives insight into why she left her house on that Ill-fated chilly February night.
On the night of February 15, Amya Carey was picking up a friend: Kaymia Blackmon, who was in the company of her dusty boyfriend, Dewitt Anderson.
According to the police they went to several places that night, and at a point all of them, Kaymia Blackmon, Anderson, and Anderson's brother, Cedric Banks, all tried to have sex with Amy Carey she refused, and got into a fight with her friend Kaymia Blackmon.
It was at this time that dusty Anderson picked up a gun and shot Amya Carey. With the 18yrs old teenager gravely wounded, they pushed her inside a car and sped off with her in the car, at this point it is confirmed by the police that one of them raped her.
Amya Carey would then be shot two more times after the r@pe by Banks and her lifeless body was dumped close to Clay Street.
Detectives said they do not know and can't confirm if the teenager was dead or alive when she was R@ped in the vehicle.
DETAILS ABOUT AMYA CAREY
Famelord can confirm all the details below of Amya Carey after interviewing her family members who sent us pictures of Momentos of her life.
Amya Carey was 18yrs old and she gave birth to a beautiful baby boy in 2019, she is survived by a 3yr old baby named Jayden.
She was in a relationship with her babydaddy at the time of her death.
She was a budding Singer/Rapper and she loved to dance, with dreams of making it big into the limelight and we are sure she would have if these dusty men did not cut her life short!
RIP AMYA CAREY 2003 – 2022
Chef Dee BBL! Did Chef Dee Get A BBL?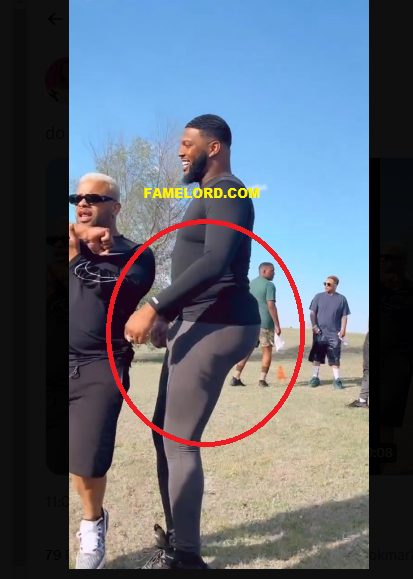 Chef Dee BBL has been trending for months now and Anthony from Bad Boys Texas on Zeus network might have just thrown fuel on this BBL Allegation.
Though it might sound far-fetched for a man to have BBL! Lol, But in reality it is not as far-fetched as you think it is, there are actually men in the entertainment industry that have undergone BBL Surgery most notable of them is Bandman Kevo The Reformed Scammer.
Did Chef Dee Get A BBL?
To be honest Chef Dee does look like he had BBL surgery done, all the telltale signs are there as you can see below.
And then there is the interview his fellow co-star on Bad Boys Texas gave in which he said dropped some shocking revelations about Chef Dee.
The interview revolved around Anthony's response to a clip from a recent episode and his comments about Chef Dee's behavior, hygiene, and BBL Surgery. The interview also includes comments from others regarding Anthony's remarks.
From the Interview, it is clear that Anthony had some grievances with Chef Dee. He mentioned issues such as Chef Dee having A BBL, serving uncooked food at his birthday party, selling soggy items, not cleaning up after himself, leaving dirty sheets in the guest room, and having multiple unknown people in Anthony's house. Anthony criticized Chef Dee for allegedly using the spotlight and lying about it, and he suggested that Chef Dee invest in a cooking class and fix his food truck's financial issues.
The interview highlights how Anthony's comments were seen as a sharp and direct critique of Chef Dee, particularly focusing on his BBL, hygiene, wigs, and personal habits. Some reactions so far from fans show that while some sided with Anthony, expressing support for his claims and criticizing Chef Dee's behavior. Others expressed their dislike for both individuals or remained neutral.