12yrs old Girl Accidentally Pulls Trigger On Her 14yrs Old Cousin (VIDEO)
A 14yrs old St Louis girl just accidentally' shot her male 12 year-old cousin [email protected] in a freak incident and she also managed to accidentally shoot herself [email protected] in the process while streaming on Instagram Live at a birthday party, Famelord has Uncovered.
The video has since gone viral on social media, this is a very sad occurrence and no family deserves to go through such a tragic accident.
St Louis Cops on first appraisal of the situation initially described the freak incident, in which the 12-year-old St Louis teenager Paris Harvey, accidentally shot her 14-year-old cousin, Kuaron Harvey before accidentally shooting herself, as a murder-suicide.
But the family of the kids involved have long debunked this narrative and they vehemently vow that the horrific shooting that took place at the house the family lives in and also used to celebrate the I'll fated birthdays, as just another 'freak accident.'
The kids involved, Kuaron and Paris, whose mother and father are blood siblings, were both pronounced [email protected] at the scene by paramedics who tried to revive them but to no avail.
One of the [email protected] teens mother, Paris' mother, 35-year-old Shinise Harvey had this to say to the St Louis Daily dispatch:
It was no murder. It wasn't a suicide,' . 'It was a freak accident. It happened.'

They were playing with the gun, when they shouldn't have been. Of course, they shouldn't have been doing it. I think it just went off. It went off by mistake.'
The police are presently investigating how the got the gun, and who the gun is registered to.
Nia Long's NBA Coach Husband Ime Udoka Side Piece/Chick Revealed!!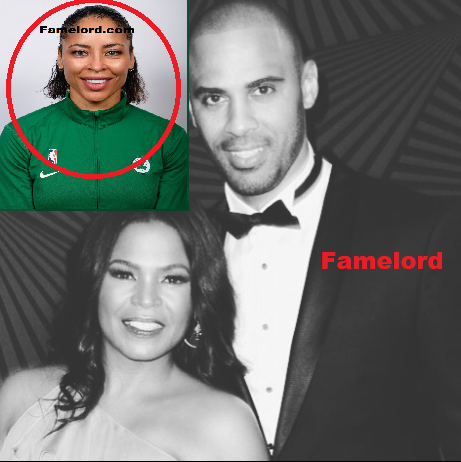 Actress Nia Long Pastor Husband Ime Udoka Side Piece/Chick is trending like wildfire on social media, after news that he was suspended as the head coach of the Boston Celtics was broken by ESPN, He is alleged to be having an unprofessional affair with his subordinate at work, Famelord Uncovered that much.
According to ESPN. Ime Udoka is facing a panel of a disciplinary investigation and is on suspension for having consensual, intimate relations with a member of the Boston Celtics Staff, and the worst part is that he was allegedly having intimate relations with this side piece during work hours, the investigative panel allegedly revealed.
Even though the company investigative panel did not name the alleged side chick to the press, Twitter sleuths have been on a roll and allegedly uncovered a woman they strongly believed is the side chick. Here is her image below.
Here are some replies on social media:
If this her then… I understand.

Ova Nia Long my boy?

Over 2022 Nia Long yes

Professional head Dr I see it in her eyes. Good for him

DAMN NO CAP, she is bad