Nicki Minaj FACE!! Nicki Minaj Eye Surgery!! Past to Present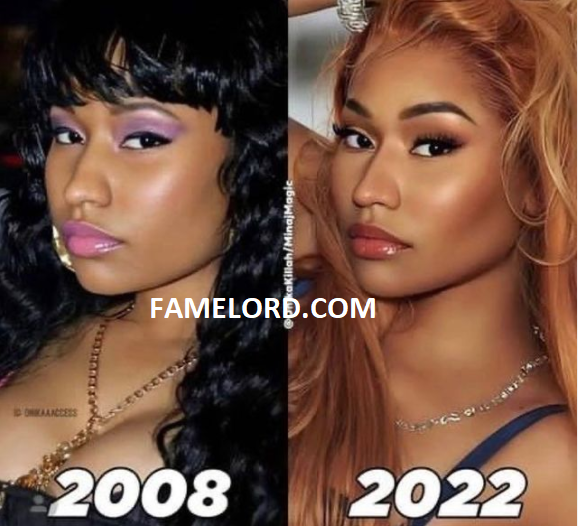 Nicki Minaj face is an ever-changing process and with the eye surgery, she just got it is even now more interesting taking into account the fact that she once dissed Lil Kim for her changing face, and less than a decade down the line she is now been accused of the same thing, And she is guilty which comes as no surprise really.
Nicki Minaj Eye Surgery
Nicki Minaj face just got a new look with her recent eye surgery which now has Nicki Minaj looking like an Asian female and this new surgery got her looking both dramatically and drastically different than before.
First Nicki Minaj Eye Surgery
Presently……..
Facial Surgeries In Hiphop
As expected Nicki Minaj is not the first female rap artiste to go for this asain look, Lil Kim has famously been on the wave for a decade now and she has endured a lot of ridicule for it from fans and foes alike but it now seems that Nicki Minaj has acquired a taste for the Asian look wave.
Prior to Nicki Minaj pioneering this new wave of surgeries in the hip-hop game legends such as foxy brown and Lil Kim have been doing it, their surgery rap sheet is extensive mostly Lil Kim.
Since she got dissed in the famous Tupac, Biggie diss record 'Hit em Up' she has been on a mission to make sure she is unrecognizable by her fans, and newer artiste such as Cardi B and Doja Cat are not left out from it as they too have since gotten a lot of work done on their body.
Cardi B as been most vocal about her surgery adventures and she always announces her surgery to her fans prior to her going under the knife she also takes out time to go live on her Instagram account after the surgery and healing process is complete to show off her newly acquired goods to her fans.
Here below are a few images of Nicki Minaj face the ever-changing phenomenon lol.
Presently………..
View this post on Instagram
Chef Dee BBL! Did Chef Dee Get A BBL?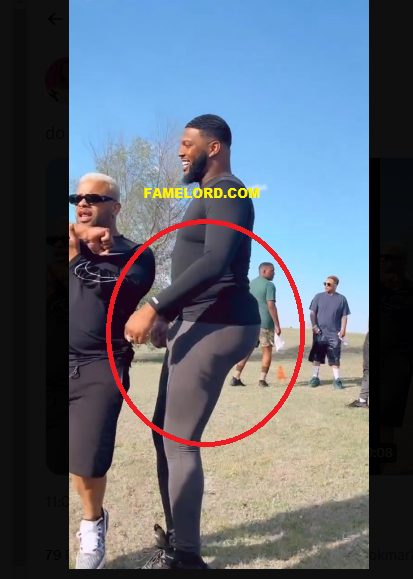 Chef Dee BBL has been trending for months now and Anthony from Bad Boys Texas on Zeus network might have just thrown fuel on this BBL Allegation.
Though it might sound far-fetched for a man to have BBL! Lol, But in reality it is not as far-fetched as you think it is, there are actually men in the entertainment industry that have undergone BBL Surgery most notable of them is Bandman Kevo The Reformed Scammer.
Did Chef Dee Get A BBL?
To be honest Chef Dee does look like he had BBL surgery done, all the telltale signs are there as you can see below.
And then there is the interview his fellow co-star on Bad Boys Texas gave in which he said dropped some shocking revelations about Chef Dee.
The interview revolved around Anthony's response to a clip from a recent episode and his comments about Chef Dee's behavior, hygiene, and BBL Surgery. The interview also includes comments from others regarding Anthony's remarks.
From the Interview, it is clear that Anthony had some grievances with Chef Dee. He mentioned issues such as Chef Dee having A BBL, serving uncooked food at his birthday party, selling soggy items, not cleaning up after himself, leaving dirty sheets in the guest room, and having multiple unknown people in Anthony's house. Anthony criticized Chef Dee for allegedly using the spotlight and lying about it, and he suggested that Chef Dee invest in a cooking class and fix his food truck's financial issues.
The interview highlights how Anthony's comments were seen as a sharp and direct critique of Chef Dee, particularly focusing on his BBL, hygiene, wigs, and personal habits. Some reactions so far from fans show that while some sided with Anthony, expressing support for his claims and criticizing Chef Dee's behavior. Others expressed their dislike for both individuals or remained neutral.