BossTop Shot Outside Oblock Gates. Find Out Details (Video)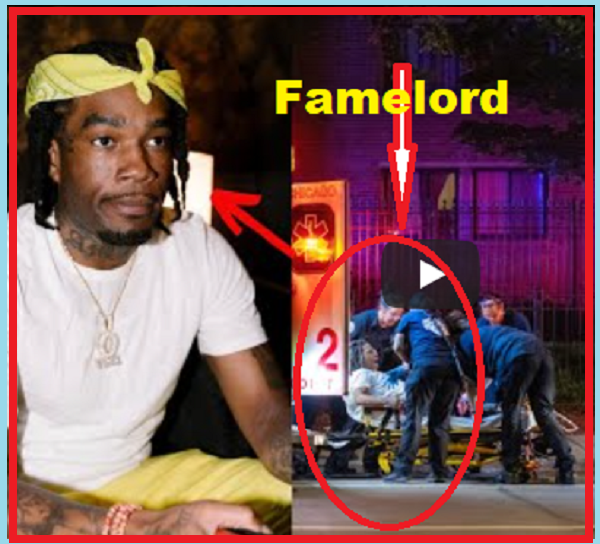 Rapper Bosstop shot outside oblock gates today and is in critical condition. Find out all that went down and how he escaped.
To better understand the situation let's go indepth into the gang politics involved and in Chicago and Oblock specifically.
Bosstop has done a lot of interviews out there he's kind of been the defunct Oblock representer, you know what i'm saying? He's been out there telling the story of Oblock, king von and their relationship in OTF.
It is reported that the bus stop outside Oblock gates got shot today and it's no wonder because these holiday weekends in Chicago be turned up, alot of things go down in Chicago as far as the holiday weekends are concerned.
This is always one of those things that the city is always worried about but it seems like the city is living up to its reputation because on this 4th of July weekend there was a shooting outside of Oblock several people got shot Bosstop being one of the people.
From the local Fox 32 news in Chicago there's a news story I want to talk about, the headline says this
Five shot overnight in parkway gardens
Now for those of you who don't know parkway gardens is actually Oblock . Oblock is a nickname for parkway gardens, five people were shot overnight in parkway gardens, I guess they were hanging out doing whatever and somebody came through and started to spray the place up.
The crazy part is it seems like it's one shooter for all of these people who got shot so let's continue with the earlier referenced news article: it starts off by saying Chicago five people were struck by gunfire in a mass shooting early Monday in the parkway gardens neighborhood
Looks like it took place early this morning, so somebody trying to ring in the 4th of July weekend the wrong way, with BossTop Shot you know what I'm saying this is crazy, and I hate to make light of it because people were actually shot so it's a serious and sad situation but this is the crazy man you know it's wild that every time there's a holiday weekend in Chicago it's like the city has to sit back and say okay we need to prepare for the worst as opposed to being like yo it's a holiday weekend everybody's going to be enjoying their self and having fun man.
The story continues by saying this it says a boy and four men were standing outside around 12:13 am in the 6500 block of south dr martin Luther king junior drive when gunfire broke out.
The victims were a 17-year-old boy who was shot in the arm and taken to Saint Bernard hospital in fair condition so it looked like it was a 17-year-old who was shot out there you know what I'm saying and he was taken to the hospital then there was a 19-year-old man was shot in the leg and transported the University of Chicago medical center in fair condition so that's a 19-year-old and a 17-year-old who was shot but they're both in fair condition now another 19-year-old man who was shot in the leg and transported to another undisclosed hospital is in fair condition that's three people in total so far.
Then it continues by saying a man in his mid-twenties was shot in the knee and taken to ufc in fair condition there's also a 30-year-old man who was shot multiple times and transported to the ufc in fair condition so it looks like everybody who was shot the 20-year-old the 30-year-old the two 19-year-olds and the 17-year-old man they're all in fair conditions so at least that's positive.
It's great that nobody's going to lose their life in this shoot out, now the story also says the gunman may have been traveling in a black SUV according to Chicago police victims and witnesses at the scene refused to provide further details, the report says nobody wanted to provide any details it just went about their business now no one is in in custody as area one detectives investigate no additional information was immediately available.
Bosstop has a rapport with everybody like people in Atlanta rock with him, people all over rock with bosstop you know and that's why you see him on these big platforms with these huge interviews and people talking to him trying to understand his story and pretty much the Oblock story because like i said he's their defunct representative.
Hopefully, everything goes well Bosstop I'm hoping he pulls through, and based on these reports if he's one of the guys who got shot either the guy who's 30 years old or the guy who's 20 years old he could be either one of those guys it still was reported that that person is in fair condition so you know for all intents and purposes you can assume that bosstop would be all right.
View this post on Instagram
Migos Rapper TakeOff Shot Dead In Houston (Picture x Details)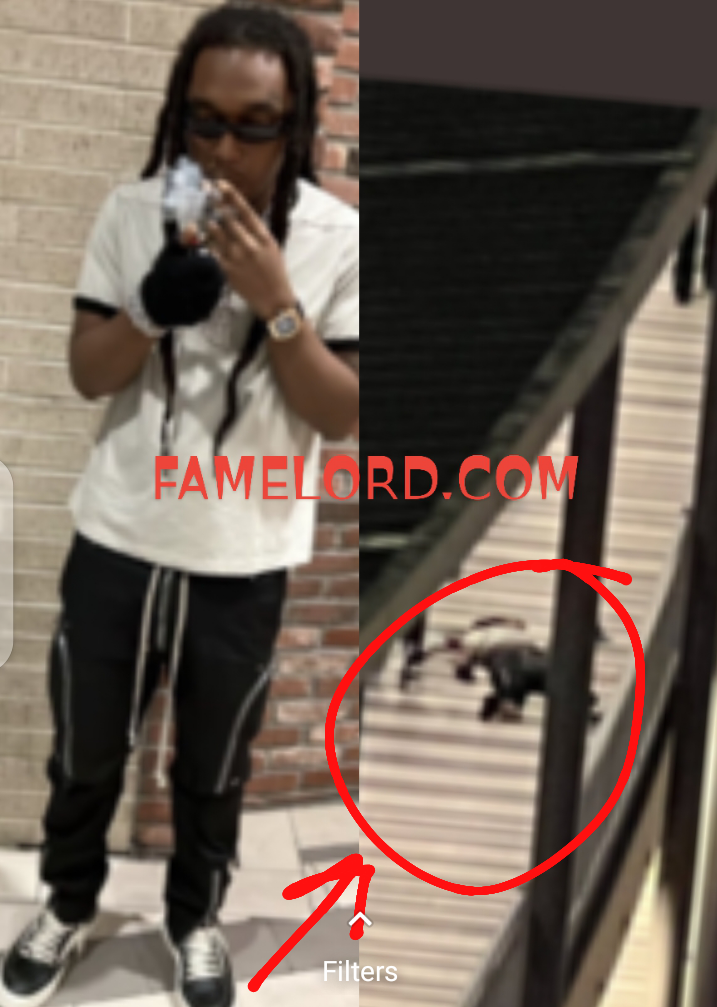 Takeoff shot dead allegedly in Houston and it is also reported by witnesses at the scene  that quavo was also shot too but survived…..DETAILS!!
Takeoff was shot while quavo was playing a game of dice with some criminal elements from Houston and quavo was losing badly an began to act tough towards the other players which did not sit well with them.
Tempers started rising and bullets started flying from both the Migos camp and that of the Houston gangsters and takeoff was hit multiple times alongside quavo.
I would be posting a picture below of him at the scene ….RIP to takeoff…. The video is also posted below …. For more details as they unfold stayed glued on Famelord.com
Here is the police report on the shooting
This is a screenshot of our chat with a witness at the scene he tells the full story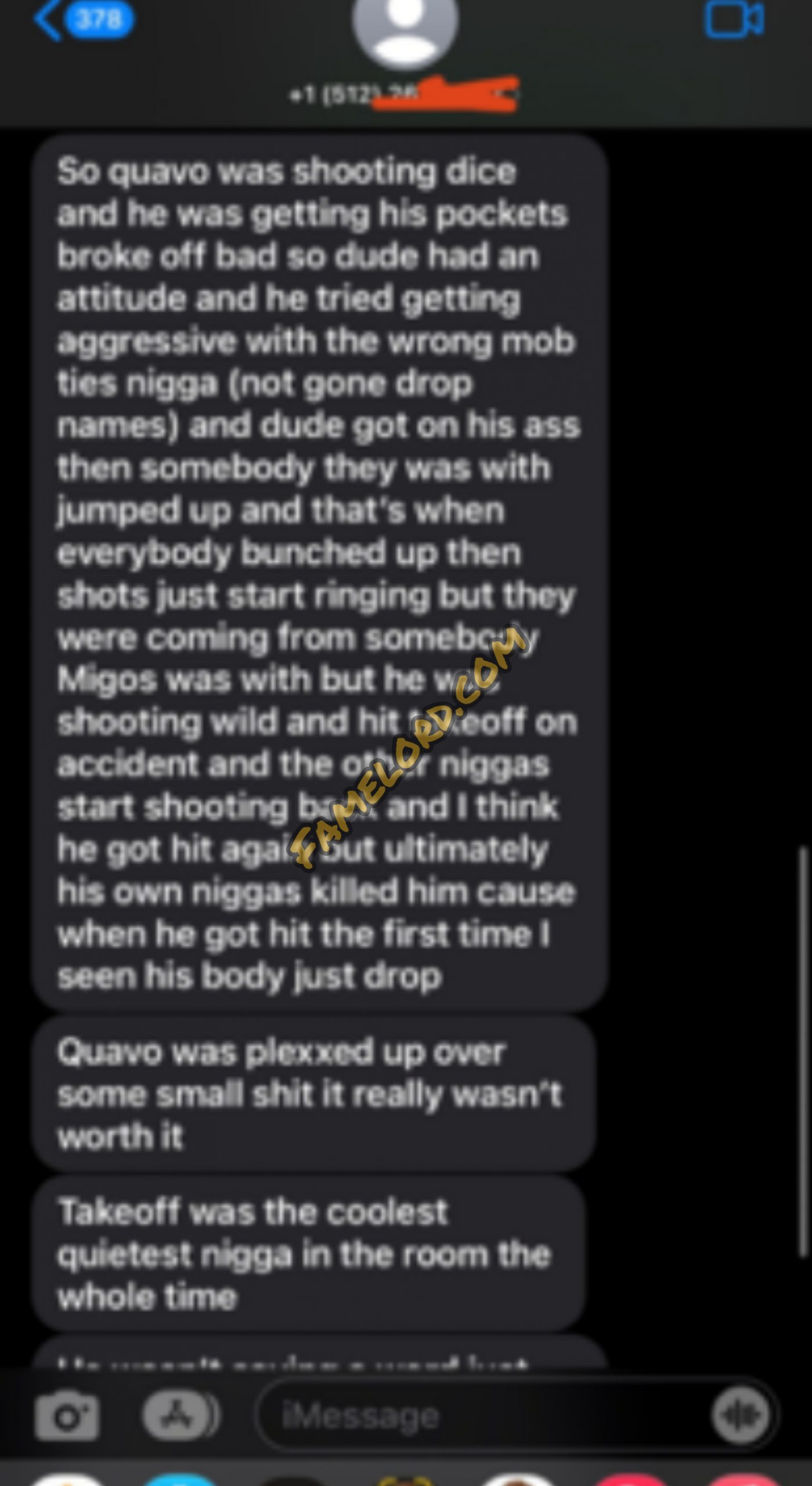 View this post on Instagram
;