Dababy Gang…. Is Dababy a Blood Gang Member? DaBaby Criminal History FACT CHECK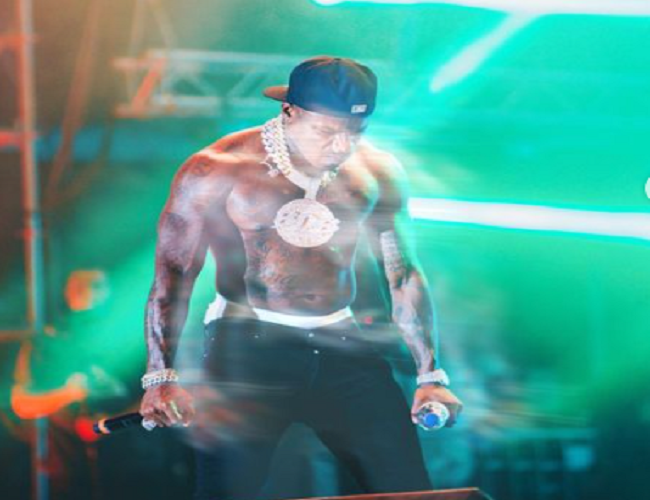 Dababy Gang Affiliation is threatening to ruin his career, Is Dababy a blood Gang Member? Dababy Criminal History Fact Check
Dababy has become arguably one of the hottest rappers in the game from 2019 into 2022 but he started off the year on the wrong foot with new charges he picked up in Miami wrestling a thug who had issues with Dababy Gang.
This isn't the first time that Dababy gang has been busted by the cops nor his first time behind bars now, in fact, Dababy even killed a man inside a Walmart but don't fret all charges were dropped and the shooting was deemed self-defense.
We can make a good guess from Dababy Criminal History how Dababy feels about American gun laws he's probably always packing, and not lacking, Ee can deduce this from Dababy's recent arrest and what he had to say inside the courtroom well it's gone viral
I got a quarter-million dollars in the hotel
Who's got a quarter million just sitting in a bag remember Dababy only stole 8k off the promoter who failed to pay him which got him stuck in jail but as i mentioned this wasn't his first time locked up behind bars.
DABABY GANG CRIMINAL HISTORY
We're gonna take a look at the Dababy Criminal history of trouble with the law now Dababy seems like a good kid the ladies love him as do the broski's but it's fair to say Dababy well he can be all smiling one minute but if you clown him well he can go badbaby real fast.
Dababy was born Jonathan Lindale Kirk on December 22 1991 in Cleveland Ohio but he moved to charlotte when he was six years old and growing he was the baby of the family-like for real with two older brothers he was raised by his mom while his dad traveled the country working for the army, now dad his stayed in the picture and he would see him over the summers.
According to Dababy is says at five years old he knew that he wanted to make a million dollars stay in a mansion and never have to work a 9 to 5 but how are you gonna do that in charlotte north Carolina? Dababy spent his time making money on the streets starting at 17 but he knew that was never a lifestyle that he wanted to pursue, he bought himself a condo and two cars before he was 22.
He then sold it all taking a big gamble on himself to become a rap superstar, now the average price for a condo in North Carolina, We decided to look it up and it turns out its around a quarter-million dollars so yeah it's like the same amount this guy had in his bag back in his hotel room so Dababy had definitely made some moves building up his net worth and of course, this would come with a few run-ins with the law.
On June 15, 2013, Dababy was caught in possession of half an ounce of marijuana and carrying concealed weapon now he was released on a 5k bail then he got booked again a couple of times in 2016 for a misdemeanor weed possession there was of course possession of a firearm as we mentioned before and he was arrested for driving with a fake license in early 2016, baby jesus which he was known at the time well he headed on his first tour throughout America with his friends and on that tour well Dababy Gang he had a little running with the police on speculations that Dababy is a blood gang member.
Now ironically enough while trying to shoot a music video at a local Walmart, he ended up doing eight hours in Virginia before getting out but this wouldn't be his last Walmart incident with a fatal shooting happening in 2018.
Dababy actually explained to his fans his side of the story he had this to say below:
A man walk down on you and your family threaten y'all whip out a tool y'all let me see what y'all gonna do you feel me i wasn't it no police station i went grocery shopping i went to buy my baby some more winter clothes cold outside you know see me buying baby clothes and he wanna come show me how tough that is come on we have to bleep out every time he says the n-word
Let Famelord break this down for you all, so essentially what happened was that two men approached him while he was with his baby mom and two kids, an altercation broke out and these dudes they were packing and the Dababy well he did what he had to protect his family now this altercation had resulted in the death of one person, Dababy Gang Members were arrested alongside the rapper. Dababy pleaded self-defense and after reviewing the security footage well the courts they agreed and the case was dismissed.
Dababy was found guilty of a concealed weapon charge and he received one year of unsupervised probation now the next year he would be a double xl freshman and his career would skyrocket but so would the fandom and this resulted in a few situations which most notably is the dude at the Louis Vuitton store, Dababy would get arrested again after getting off stage in his native charlotte in 2019 and this one will have made the local news.
Police arrested him and ticketed him for possession of marijuana investigators later released him from custody but in addition to the marijuana charge, Dababy says cmpd also ticketed him for resisting arrest.
Dababy alleges he was targeted unlawfully by the police:
Cops unlawfully searched my car arrested me made me take 12 pictures in there sit around arresting me then pull me from out of there and just say okay we freed you free to go we about to drop you off around the corner and gave me a citation just say i resisted the arrest now what i did seeing how they were unlawfully searching my car while i was on stage before i went on stage i continued to perform put on the show for my fans i had my outstanding video production team the real goats had them prepared and had this right here put on me and pulled their own trick on them so what we got is high quality audio and video of me doing everything but resisting the arrest before they just brought me down here and we will be hearing it out and y'all will see how dirty the cmpd police department just did me on the holidays in front of my daughter when i was putting on the show for my city y'all have a good night.
Dababy also took to Twitter to explain his side of things he stated:
someone died last night while the police department wasting resources and officers to harass me in attempt to make a bad example out of me, investigating Dababy Gang? Asking is Dababy a blood? when in reality i'm the most positive example the city of charlotte got especially for anybody in the streets of charlotte and the kids
In reality, the harassment from the Cops is actually a shame because Famelord uncovered that Dababy had spent that day doing a toy drive giving gifts to hundreds of kids the last thing you ever want is your own city to do you bad I mean you don't see drake getting locked up in Toronto although he did have to cut the Toronto.
IS DABABY A BLOOD?
Dababy has been making all sorts of headlines with his Dababy Gang and for the wrong reason first up we got video footage that surfaced at the Dallas airport where he was seen getting into a scrap with someone who worked at a bagel shop then there was his now-infamous arrest in Miami. Dababy was owed thirty thousand dollars for a performance but the promoter he showed up with only 20k so the Dababy Gang Members allegedly pounced on him they stole 80 bucks, a credit card an iphone7.
Dababy spent 48 hours behind bars and when he posted this shortly after:
please stop talking to me about that week 48 hours i spent in jail and that failed attempt to break my spirit and interrupt the path i'm taking to my god-given success don't allow yourself to be misled by junky promoters and lazy grown men itching for the opportunity to file a lawsuit they will win i remain composed and focused knowing allegations made without honesty and integrity will never be honored by the most high please be reminded that situations like these aren't worthy of your time or attention don't allow yourself to become lost in the sauce or misinformed by the media i encourage you all to kick back relax and prepare yourselves for this new wave of music and entertainment i have prepared for you all so there you have it let's hope this is the end of his time getting incarcerated.
Can you picture Dababy transitioning into film and being like a superstar? An around actor rapper and I think he's got some serious star quality so let's hope he stays out of trouble. And lest I forget Dababy has categorically come out to say "DABABY IS NOT A BLOOD GANG MEMBER"
View this post on Instagram
Migos Rapper TakeOff Shot Dead In Houston (Picture x Details)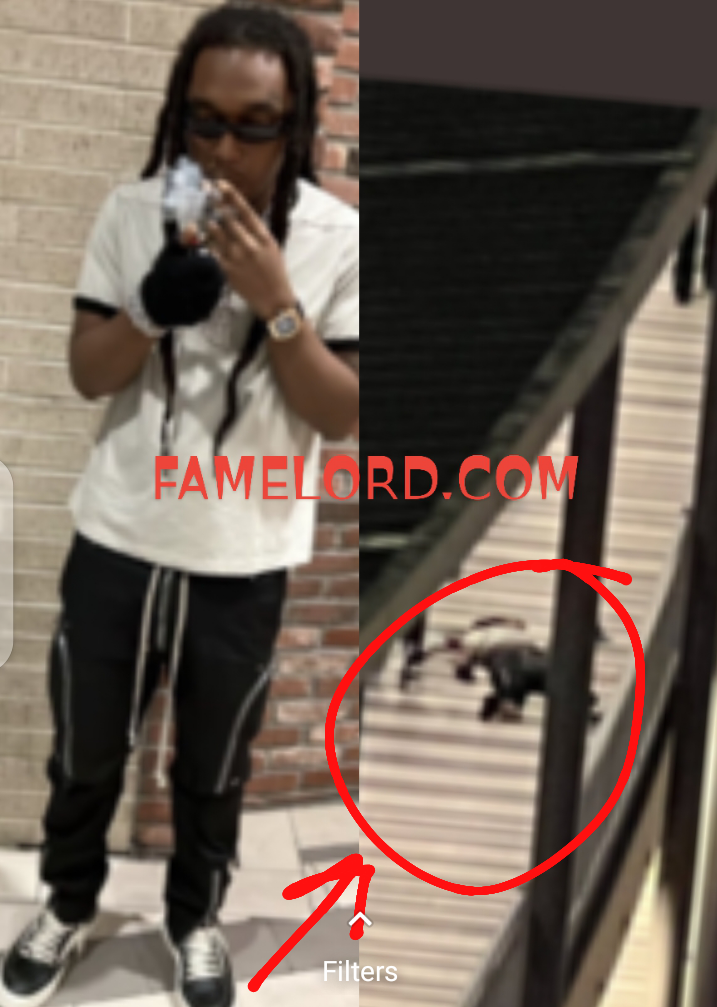 Takeoff shot dead allegedly in Houston and it is also reported by witnesses at the scene  that quavo was also shot too but survived…..DETAILS!!
Takeoff was shot while quavo was playing a game of dice with some criminal elements from Houston and quavo was losing badly an began to act tough towards the other players which did not sit well with them.
Tempers started rising and bullets started flying from both the Migos camp and that of the Houston gangsters and takeoff was hit multiple times alongside quavo.
I would be posting a picture below of him at the scene ….RIP to takeoff…. The video is also posted below …. For more details as they unfold stayed glued on Famelord.com
Here is the police report on the shooting
This is a screenshot of our chat with a witness at the scene he tells the full story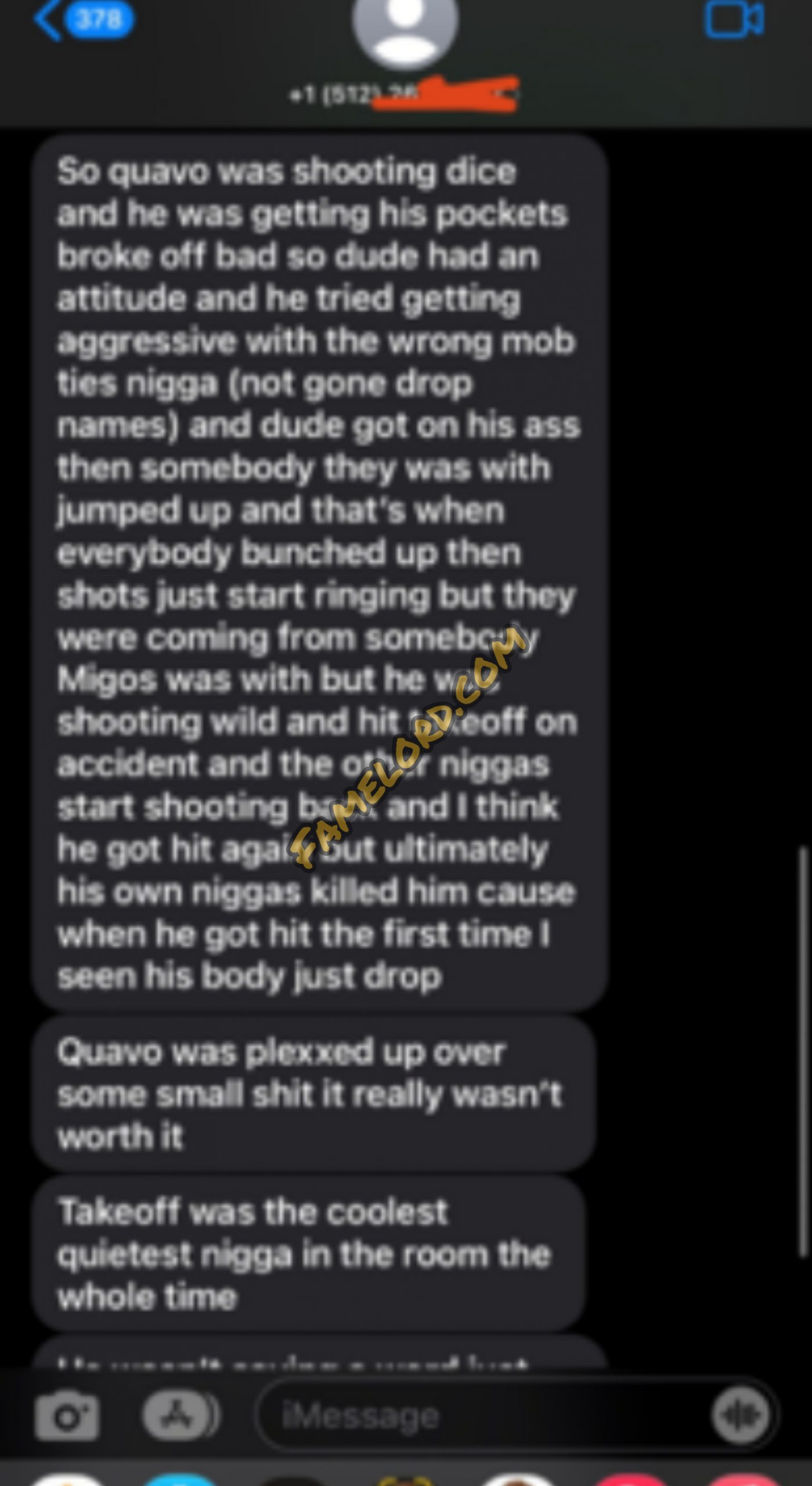 View this post on Instagram
;