BLOOPER!! Paul and Maggie Murdaugh Autopsy Photo Leaks In Court
A major blooper occurred during the murder trial of Paul and Maggie Murdaugh, their  Autopsy Photo Leaks In Court. The trial has been ongoing for a number of days now and it has been quite revealing as persecutors recreate what they believe happened on the night of the double homicide.
HOW DID Paul and Maggie Murdaugh Autopsy Photo LEAK IN COURT?
Apparently, in a major blooper event paul and maggie, Murdaugh autopsy photo was leaked during court proceedings by South Carolina AG Alan Wilson.
This happened while he was trying to prevent the jurors from seeing the contents on his screen, he turned the screen towards the judge but that was a mistake because it was in direct view of the live stream cameras and eagle-eyed watchers screenshotted the autopsy photo with a fastness.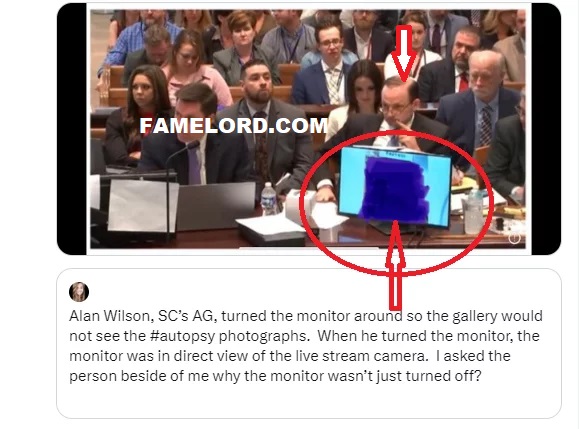 On June 7th, 2021, the small town of Islandton, South Carolina was rocked by the shocking discovery of the bodies of Maggie Murdaugh, 52, and her son Paul Murdaugh, 22, on their family's property. The Murdaugh family, one of the most prominent and well-known families in the area, has a long and storied history in the Lowcountry region of South Carolina. For three generations, they have been influential lawyers, often serving as prosecutors or defenders in high-profile cases. The family has also been involved in local politics, with multiple members serving in elected positions.
Migos Rapper TakeOff Shot Dead In Houston (Picture x Details)
However, the Murdaugh family's reputation has been marred by scandal in recent years. Randolph Murdaugh III, the patriarch of the family, was a well-known prosecutor in the area until he was charged with stealing money from his office's drug enforcement fund in 2005. He was forced to resign and pleaded guilty to the charges, receiving a five-year suspended sentence and probation.
Despite this setback, the family remained influential in the area, with other members of the family, including Randolph's son, Alex Murdaugh, continuing to practice law and serve in public positions. However, the family's reputation suffered another blow in 2019 when a boating accident claimed the life of 19-year-old Mallory Beach, who was traveling with Paul Murdaugh and others at the time of the crash. Paul was charged with boating under the influence and causing death, and the case was still ongoing at the time of the murders.
Following the discovery of Maggie and Paul Murdaugh's bodies, investigators had few leads in the case. However, as the investigation progressed, rumors began to swirl around the Murdaugh family and their potential involvement in the crime. One theory was that the murders were connected to the 2019 boating accident and that someone seeking revenge had killed Maggie and Paul in retaliation. Others speculated that the murders were linked to the Murdaugh family's legal work, as they had represented clients on both sides of many high-profile cases in the area.
The investigation took a dramatic turn in September of 2021, when Alex Murdaugh, who had been representing the family in the aftermath of the murders, was shot in the head on a rural road in Hampton County. He survived the shooting and was airlifted to a nearby hospital, where he was treated for his injuries.
As investigators delved deeper into the Murdaugh family's history and connections, they uncovered a web of intrigue and potential wrongdoing. In October of 2021, Alex Murdaugh was arrested and charged with insurance fraud, as he was accused of arranging for his own shooting in an attempt to collect a $10 million life insurance policy.
The case has sparked intense interest and speculation, as more details about the Murdaugh family's connections to local law enforcement and political figures have emerged. It has been revealed that members of the family had used their influence to protect themselves and their clients in various legal matters and that there was a culture of corruption and cover-ups in the area.
Despite the arrest of Alex Murdaugh, the investigation into the murders of Maggie and Paul Murdaugh is ongoing. The case has captivated the nation and shed light on the dark underbelly of power and influence in small-town America.
Kristin Beyonce Thick Cousin Latest Update!! Viral Again …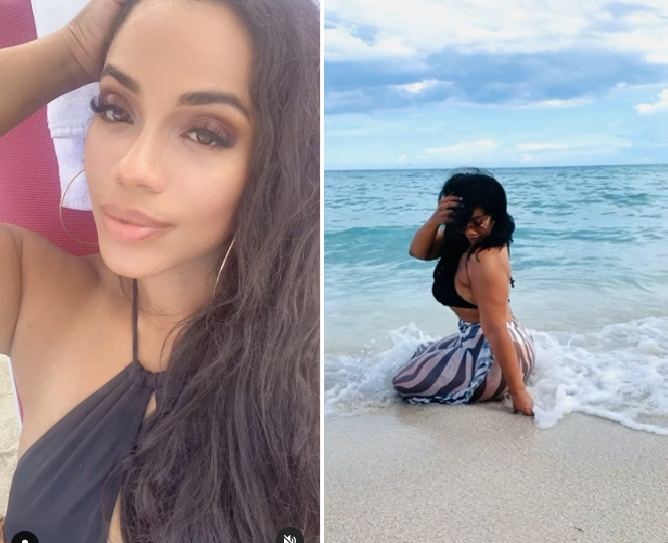 Kristin Beyonce Thick Cousin, the medical pro from Houston, totally shook the internet like seven years back.
Well, hold onto your hats, because Kristin is still kicking it, and she's looking absolutely fabulous. Beyonce is making her way back to her hometown this weekend for a series of concerts in Houston, and guess who's rolling with her? Yep, Beyonce's entire crew, including the one and only Kristin, will be in the house.
And in case you're curious, Kristin Beyonce Thick Cousin still owns her curvaceous style. Here are some fresh pics of Queen Bey's cousin.
Beyoncé got her start early in the game, hitting up singing and dance competitions when she was just a kid. She catapulted to fame in the late '90s as part of the R&B girl group Destiny's Child, one of the biggest girl groups ever to grace the stage. When Destiny's Child took a breather, Beyonce dropped her first solo album, "Dangerously in Love," in 2003, and it was a massive hit. She kept the hits coming with albums like "B'Day" in 2006, "I Am… Sasha Fierce" in 2008, and "4" in 2011.
View this post on Instagram
Then, in the mid-to-late 2010s, after starting her own management company, Parkwood Entertainment, Beyoncé went all in on some artsy and experimental stuff. She had folks buzzing about her visual albums "Beyoncé" in 2013 and "Lemonade" in 2016, where she tackled real-world issues like infidelity, feminism, and womanism. After dropping the cool LGBT-inspired dance album "Renaissance" in 2022, she made history by becoming the first solo artist to have her first seven studio albums debut at number one in the U.S.
Now, let's talk about her hits. We're talking about classics like "Crazy in Love," "Baby Boy," "Irreplaceable," "If I Were a Boy," "Halo," "Single Ladies (Put a Ring on It)," "Run the World (Girls)," "Love On Top," "Drunk in Love," "Formation," "Break My Soul," and "Cuff It." Oh, and she teamed up with her hubby Jay-Z for "Everything Is Love" in 2018 and cooked up the musical film "Black Is King" in 2020, inspired by the music from "The Lion King: The Gift" soundtrack from 2019. And don't forget "Homecoming: The Live Album" in 2019, capturing her 2018 Coachella performance, hailed as one of the all-time great live albums, celebrated for its diverse musical history. Beyond music, she's also dabbled in the world of film, appearing in "Austin Powers in Goldmember" (2002), "The Pink Panther" (2006), "Dreamgirls" (2006), "Cadillac Records" (2008), "Obsessed" (2009), and "The Lion King" (2019).