Does Jaden Newman Onlyfans Page Exist? Fans Query Julian Newman's Sister!!
Does Jaden Newman Onlyfans Page Exist? Rumors are rife on social media as Fans Query Julian Newman's Sister!! Let's find out the answer…
Jaden Newman is a younger sister to Julian Newman who was a notable figure in the high school basketball circuit, he garnered a lot of buzz and immense popularity despite being widely regarded as a one-trick pony and voted as one of the least skilled players on the court. He initially rose to fame during his time in middle school, capturing the attention of fans and media alike. However, as he failed to grow beyond his diminutive stature of 5'5″ and failed to improve his basketball skills, he went fast from being regarded as a  legend in his locality to becoming the subject of ridicule.
Despite his dismal performance as a basketball player in later years, Julian Newman has managed to leverage his fame and create a successful career for himself on the internet. He possesses a keen business acumen and he is rumored to have amassed a sizable fortune through various online marketing ventures despite never making it to the NBA Professionally. His ability to capitalize on his celebrity status has undoubtedly contributed to his substantial net worth, despite his lack of success on the court.
Because of Julian Newman's celebrity status, his family has also got a rub of the shine and become somewhat of a D-list celeb family and has become a household name due to Reality Tv, The Newman Family is often referred to as a knockoff version of the Ball family by fans/viewers of the reality Tv show.
One member of the family who has risen to prominence above the others in recent years is Jaden Newman, Julian's sister, who is also a basketball player. Jaden has garnered attention for her provocative social media posts, which have caused a stir among her followers. In fact, there are now rumors circulating that Jaden may be considering joining OnlyFans, a platform where creators can share exclusive content with their fans for a fee. In this article, we will explore the reasons behind these rumors and what they could mean for Jaden's career moving forward.
Did Jaden Newman Really Start An Onlyfans Page?
It's no secret that OnlyFans in recent years has surged in popularity worldwide in recent times. It seems like every A-Z List celebrity out there wants to create an account on the platform to make some extra money on the side or to keep their fame buzzing and keep their name on people's lips.
In a nutshell, Jaden Newman Onlyfans is False and it is just a rumor that started because Recently, Jaden Newman launched a subscription-based Instagram account. According to Famelord.com findings, Jaden is posting some rather risqué content on her page.
View this post on Instagram

For Example, a photo of her in a tiny bikini reveals a substantial portion of her posterior. So Interestingly, This made some people start referring to Jaden's Instagram account as her very own OnlyFans page, as it operates on similar principles. If you're curious, head over to her Instagram page and see for yourself.
So do you see how Jaden Newman Onlyfans Rumour Started?
Ariana Fletcher Before Surgery! What Ari Fletcher Looks Like Now!!
Tommie Lee Before Surgery BBL Tommiee Before And After Fame Pics
JT Before Surgery BBL, City Girls TheGirlJT Before and After Pics
Pastora Claudia Jaramillo: Meet The Hottest Female Pastor In The World
Kristin Goes Beyonce Thick Cousin Latest Update!! Viral Again …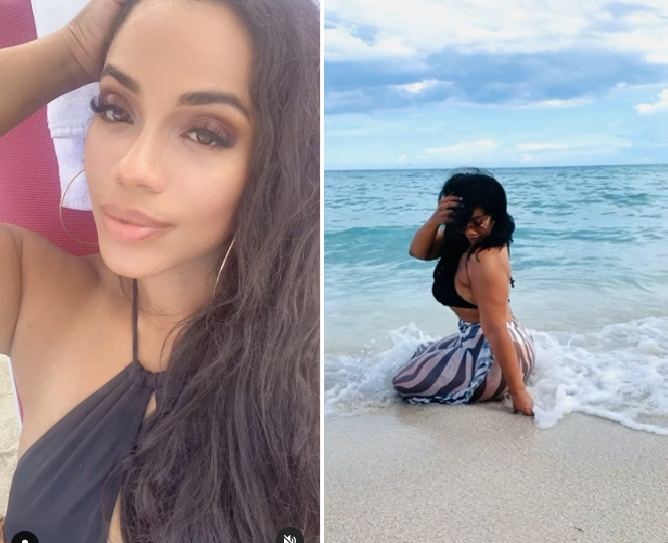 Kristin Beyonce Thick Cousin, the medical pro from Houston, totally shook the internet like seven years back.
Well, hold onto your hats, because Kristin is still kicking it, and she's looking absolutely fabulous. Beyonce is making her way back to her hometown this weekend for a series of concerts in Houston, and guess who's rolling with her? Yep, Beyonce's entire crew, including the one and only Kristin, will be in the house.
And in case you're curious, Kristin Beyonce Thick Cousin still owns her curvaceous style. Here are some fresh pics of Queen Bey's cousin.
Beyoncé got her start early in the game, hitting up singing and dance competitions when she was just a kid. She catapulted to fame in the late '90s as part of the R&B girl group Destiny's Child, one of the biggest girl groups ever to grace the stage. When Destiny's Child took a breather, Beyonce dropped her first solo album, "Dangerously in Love," in 2003, and it was a massive hit. She kept the hits coming with albums like "B'Day" in 2006, "I Am… Sasha Fierce" in 2008, and "4" in 2011.
View this post on Instagram
Then, in the mid-to-late 2010s, after starting her own management company, Parkwood Entertainment, Beyoncé went all in on some artsy and experimental stuff. She had folks buzzing about her visual albums "Beyoncé" in 2013 and "Lemonade" in 2016, where she tackled real-world issues like infidelity, feminism, and womanism. After dropping the cool LGBT-inspired dance album "Renaissance" in 2022, she made history by becoming the first solo artist to have her first seven studio albums debut at number one in the U.S.
Now, let's talk about her hits. We're talking about classics like "Crazy in Love," "Baby Boy," "Irreplaceable," "If I Were a Boy," "Halo," "Single Ladies (Put a Ring on It)," "Run the World (Girls)," "Love On Top," "Drunk in Love," "Formation," "Break My Soul," and "Cuff It." Oh, and she teamed up with her hubby Jay-Z for "Everything Is Love" in 2018 and cooked up the musical film "Black Is King" in 2020, inspired by the music from "The Lion King: The Gift" soundtrack from 2019. And don't forget "Homecoming: The Live Album" in 2019, capturing her 2018 Coachella performance, hailed as one of the all-time great live albums, celebrated for its diverse musical history. Beyond music, she's also dabbled in the world of film, appearing in "Austin Powers in Goldmember" (2002), "The Pink Panther" (2006), "Dreamgirls" (2006), "Cadillac Records" (2008), "Obsessed" (2009), and "The Lion King" (2019).