EDP445 Dead 2022/2023? What Happened To EDP445?
Rumors of EDP445 Dead in 2022/2023 are rife on the internet but, What Happened To EDP445? And why is EDP445 Cancelled?
EDP445 is a well-known name in the Philadelphia Eagles fan community, If you are a Philadephia Eagles fan you will know him very well. He gained popularity as the YouTube Philadelphia Eagles Super Fan, with his videos attracting millions of views since he started uploading them way back in 2007.
His content has even been featured and highlighted on prominent sports networks like ESPN and NFL Network. However, recent rumors are spreading that EDP445 may have taken his own life and committed suicide.
What Happened To EDP445? Why was EDP445 Cancelled?
According to an unconfirmed rumor, EDP445 may have died in 2022/2023 with some people speculating that he committed suicide due to allegations of him being a pedophile.
In 2021, Child Predator Detectives reportedly caught EDP445 chatting with a 13-year-old girl. Viral footage of him being interrogated by the "Predator Poachers" was released to the public, where clear as day he admitted on camera to initiating a conversation with the minor. Inappropriate text messages he allegedly sent to a child were also exposed.
As that was not enough reason for him to apply caution and advice himself to stop the nasty habit, It was not to be so as Recently, he was again exposed for allegedly talking to an underage girl in a discord chat room. The fallout from these exposures lead to his cancellation by social media users and youtube allegedly terminating his youtube account.
After the "Predator Poachers" exposed him last year, EDP445 deleted all his YouTube videos.
Is EDP445 Dead 2022/2023?
Following the rumors of his death, controversial YouTuber EDP445, also known as Deyione Scott-Wilson Eason, went live on Instagram to dispel the rumors, branding it as malicious news emanating from his hater's camp and confirming that he is alive.
However, during the recording, he revealed that he is allegedly suffering from stage five kidney failure and showed a bruise on his neck where he claims a catheter was inserted. Despite his claims, some people have questioned the authenticity of his statements after his Instagram Live session.
Fans' cold response to the rumors of EDP445's death may be attributed to the controversy surrounding the ex-YouTuber. Because of all his irresponsible actions leading to his arrest in April 2021, and YouTube removing him from their platform and terminating his channel, also banning him from ever returning in any shape or form.
Despite his past, EDP445 has been trying to make a comeback on social media sites like Instagram and Facebook in recent months.
Ariana Fletcher Before Surgery! What Ari Fletcher Looks Like Now!!
Tommie Lee Before Surgery BBL Tommiee Before And After Fame Pics
JT Before Surgery BBL, City Girls TheGirlJT Before and After Pics
Pastora Claudia Jaramillo: Meet The Hottest Female Pastor In The World
Kristin Goes Beyonce Thick Cousin Latest Update!! Viral Again …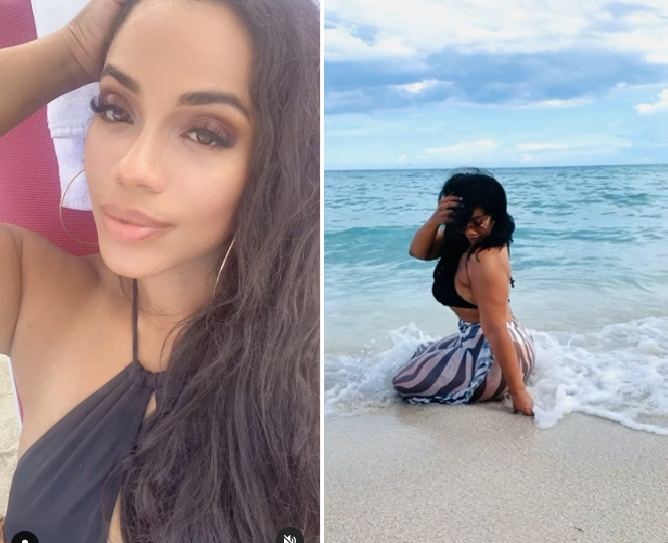 Kristin Beyonce Thick Cousin, the medical pro from Houston, totally shook the internet like seven years back.
Well, hold onto your hats, because Kristin is still kicking it, and she's looking absolutely fabulous. Beyonce is making her way back to her hometown this weekend for a series of concerts in Houston, and guess who's rolling with her? Yep, Beyonce's entire crew, including the one and only Kristin, will be in the house.
And in case you're curious, Kristin Beyonce Thick Cousin still owns her curvaceous style. Here are some fresh pics of Queen Bey's cousin.
Beyoncé got her start early in the game, hitting up singing and dance competitions when she was just a kid. She catapulted to fame in the late '90s as part of the R&B girl group Destiny's Child, one of the biggest girl groups ever to grace the stage. When Destiny's Child took a breather, Beyonce dropped her first solo album, "Dangerously in Love," in 2003, and it was a massive hit. She kept the hits coming with albums like "B'Day" in 2006, "I Am… Sasha Fierce" in 2008, and "4" in 2011.
View this post on Instagram
Then, in the mid-to-late 2010s, after starting her own management company, Parkwood Entertainment, Beyoncé went all in on some artsy and experimental stuff. She had folks buzzing about her visual albums "Beyoncé" in 2013 and "Lemonade" in 2016, where she tackled real-world issues like infidelity, feminism, and womanism. After dropping the cool LGBT-inspired dance album "Renaissance" in 2022, she made history by becoming the first solo artist to have her first seven studio albums debut at number one in the U.S.
Now, let's talk about her hits. We're talking about classics like "Crazy in Love," "Baby Boy," "Irreplaceable," "If I Were a Boy," "Halo," "Single Ladies (Put a Ring on It)," "Run the World (Girls)," "Love On Top," "Drunk in Love," "Formation," "Break My Soul," and "Cuff It." Oh, and she teamed up with her hubby Jay-Z for "Everything Is Love" in 2018 and cooked up the musical film "Black Is King" in 2020, inspired by the music from "The Lion King: The Gift" soundtrack from 2019. And don't forget "Homecoming: The Live Album" in 2019, capturing her 2018 Coachella performance, hailed as one of the all-time great live albums, celebrated for its diverse musical history. Beyond music, she's also dabbled in the world of film, appearing in "Austin Powers in Goldmember" (2002), "The Pink Panther" (2006), "Dreamgirls" (2006), "Cadillac Records" (2008), "Obsessed" (2009), and "The Lion King" (2019).