Jayda Wayda Braids: How To Do Jayda Wayda Braids 5 Braids
Jayda Wayda Braids, Popularized by popular social media influencer and entrepreneur Jayda Wayda, who is known for many things, including her signature braids. Her braids have become a recognizable part of her image and have even inspired a new trend in hair styling.
Jayda Wayda braids are a style of cornrows that are braided in a 5 Braids pattern. The braids are typically styled in a 5 Braids style, with the front section of the baby hairs prominent and curly. The braids themselves are quite thick and are often jet-black in color.
Although Jayda Wayda has been seen sporting her signature braids in a variety of different colors, from blonde to pink to blue. She often pairs her braids with bold makeup and statement jewelry, creating a glamorous look that is all her own.
The popularity of Jayda Wayda braids has led to a surge in demand for the style. Many hairstylists have started offering Jayda Wayda 5 Braids braids as a unique service, and a tutorial on how to recreate the look at home is posted in this amazing article.
One reason for the popularity of Jayda Wayda braids is their versatility. The Jayda Wayda 5 braids style can be dressed up or down, making it a nice choice for a wide range of Outings/Occasions. Whether you're heading to a party or simply running errands, the braids add a touch of glamour to any outfit.
Another reason for the popularity of Jayda Wayda's braids is their ease of maintenance. Unlike some other braid hairstyles that require daily styling, Jayda Wayda braids can be left in for several weeks with minimal upkeep. This makes Jayda Wayda 5 braids an ideal choice for those who lead busy lives and don't have the time or energy to devote to their hair.
Jayda Wayda's signature braids have become an integral part of her image and have helped to establish her as a trendsetter in the world of fashion and beauty. Whether you're a fan of the style or simply appreciate its beauty, there's no denying the impact that Jayda Wayda braids have had on the world of hair styling.
How To Do Jayda Wayda Braids 5 Braids "Tutorial"
View this post on Instagram
Step 1:  First Wash and Blow-Dry Hair Your Hair
The first thing you do is wash your hair and blow dry it. Making it very straight is a top priority. Make sure your hair is well hydrated but dried properly before you flat iron it. Do not fry your client's hair because if it's still wet when you flat iron it, it will sizzle. So make sure it is blow-dried well before you flat iron it.
Step 2: Secondly Flat Iron Hair
Once your hair is dry, use a flat iron to straighten it. Make sure you blow-dry your hair well before you flat iron it. Do not do multiple passes on the same section as it may damage your client's hair. Only do one pass throughout the whole head. This will help to protect your client's hair from damage.
Step 3: Section Hair
Section your hair into sections for the box braids. You want to part it from ear to ear. Once you do ear-to-ear, start with the back first. There are three sections in the back, so part it down and get three sections. When parting, use gel to slick the hair down. Use beeswax and spritz to slick your client's hair down.
Step 4: Begin Braiding
Starting with the back section, begin braiding the hair with knotless braids. Braid the hair one time, then feed in the hair. When braiding thick braids like this, make sure to get your client's real hair up under the braiding hair. This helps in keeping the braids in place and also prevents hair from sticking out.
Step 5: Secure with Rubber Bands
Use rubber bands to secure the spots where you braid. This will keep the braids in place while you continue to braid. At this point, the Jayda Wayda Braids Style is getting visible.
Step 6: Repeat Braiding Process
Repeat the braiding process until you have braided all of your client's hair. Make sure to feed in the hair, braid it one time, and secure it with rubber bands.
Step 7: Style Edges
Once you have finished braiding, you can style the edges. Leave them out if your client desires, or slick them back with gel or beeswax. You can curl the edges to give them a fluffy and curly look.
Jayda Wayda braids are a great protective style that can help keep your hair healthy and protected. Follow these simple steps to create beautiful Jayda Wayda 5 Braids box braids for your clients.
Ariana Fletcher Before Surgery! What Ari Fletcher Looks Like Now!!
Tommie Lee Before Surgery BBL Tommiee Before And After Fame Pics
JT Before Surgery BBL, City Girls TheGirlJT Before and After Pics
Pastora Claudia Jaramillo: Meet The Hottest Female Pastor In The World
Chef Dee BBL! Did Chef Dee Get A BBL?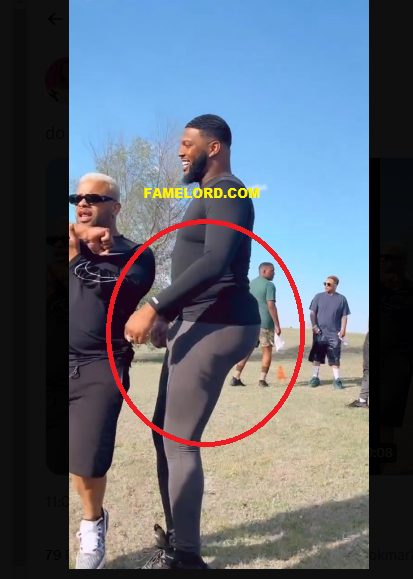 Chef Dee BBL has been trending for months now and Anthony from Bad Boys Texas on Zeus network might have just thrown fuel on this BBL Allegation.
Though it might sound far-fetched for a man to have BBL! Lol, But in reality it is not as far-fetched as you think it is, there are actually men in the entertainment industry that have undergone BBL Surgery most notable of them is Bandman Kevo The Reformed Scammer.
Did Chef Dee Get A BBL?
To be honest Chef Dee does look like he had BBL surgery done, all the telltale signs are there as you can see below.
And then there is the interview his fellow co-star on Bad Boys Texas gave in which he said dropped some shocking revelations about Chef Dee.
The interview revolved around Anthony's response to a clip from a recent episode and his comments about Chef Dee's behavior, hygiene, and BBL Surgery. The interview also includes comments from others regarding Anthony's remarks.
From the Interview, it is clear that Anthony had some grievances with Chef Dee. He mentioned issues such as Chef Dee having A BBL, serving uncooked food at his birthday party, selling soggy items, not cleaning up after himself, leaving dirty sheets in the guest room, and having multiple unknown people in Anthony's house. Anthony criticized Chef Dee for allegedly using the spotlight and lying about it, and he suggested that Chef Dee invest in a cooking class and fix his food truck's financial issues.
The interview highlights how Anthony's comments were seen as a sharp and direct critique of Chef Dee, particularly focusing on his BBL, hygiene, wigs, and personal habits. Some reactions so far from fans show that while some sided with Anthony, expressing support for his claims and criticizing Chef Dee's behavior. Others expressed their dislike for both individuals or remained neutral.